Warrandyte Primary School provides rich, authentic, open-ended, individualised, teaching and learning activities, with a wide variety of opportunities for all students. We provide a targeted literacy intervention and support program, and high achievers are challenged by providing a differentiated and individualised program.
We provide a differentiated curriculum providing learning opportunities for students at their 'point of need'. Learning intentions and success criteria, are developed with students for all lessons in all curriculum areas. Students are encouraged and supported to be responsible for their learning. They set learning goals and use data walls to track their progress. Regular conferencing opportunities provides students with feedback and ongoing assessment allows teachers to deliver individualised instruction.
Literacy
Literacy is a foundation for learning and success throughout life. In today's global environment, students engage in a wide range of literacy practices both within and outside school. Literacy is the ability to read and write, speak and listen and view and design in a way that allows us to communicate effectively.
At Warrandyte Primary School, we believe in order to develop accomplished readers and writers, students must not only develop their skills through explicit teaching and guided practice, but also gain the ability to apply literacy skills to effectively make links and interpretations of the wider world in which they live.
Through the implementation of a Whole School Literacy Program, students are immersed in the learning of phonograms -sounds and blends of sounds, encouraged to explore their talents as an author with one on one teaching conferences, and asked to engage with the meaning of the texts they investigate.  The passions and enjoyment of our students as readers through our Big 6 reading program and in our Writer's Workshops, is pivotal in the creation of learning experiences and becoming lifelong learners.
Mathematics
More than ever, children today encounter complex technologies and academic demands for which high levels of numeracy are essential. Through real life tasks, hand on investigations, explicit teaching and problem solving experiences, students build their numeracy skills.
In addition to referring to the Victorian Curriculum, Warrandyte Primary School uses the 'Developmental Stages of Mathematics' by George Booker to assist the development of a student's depth and breadth of understanding of Mathematics.
Through a Whole School Numeracy Program, mathematics lessons are taught using a consistent lesson structure, that builds on a student's fluency and mental computational skills; requires them to explore, investigate, reinforce or extend their mathematical understanding through group work or open ended investigations; and encourages a student to reflect upon & articulate their mathematical understanding.
At Warrandyte Primary School we aim to support our students to develop these vital capabilities so they can participate as active members of society.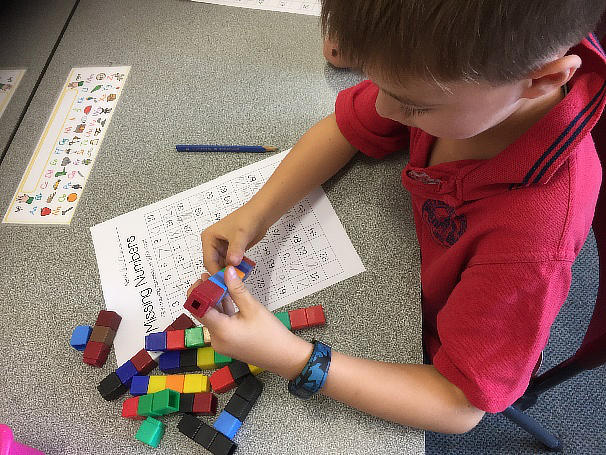 Inquiry
At Warrandyte Primary School we support an inquiry learning approach, that encourages students to ask key questions, explore and investigate. Our inquiry approach crosses all of the domains of the curriculum and is explicitly taught through the investigation of a key concept each term.
Through the establishment of inquiry learning, our students are encouraged to:
ask questions, building on prior knowledge and making their own discoveries.
make connections between ideas, learning domains and experiences.
develop group building skills as the explore ideas together.
manage their own time and tools.
research their wonderings about topics that are of interest to them.
be critical thinkers in determining the relevance and clarity of information they hear and read.
communicate their findings through a developing repertoire of styles.
Through the use of inquiry approach, students are preparing the skills they will need to be curious and lifelong learners.
Science
Over several years, Warrandyte Primary School has established a whole-school Science program with the guidance of our specialist on staff trained Science teacher. Through hands on experiments and carefully structured lessons, students are required to explore before they discover. On a weekly basis students participate in the explorations of topics such as: Biological Sciences, Chemical Sciences, Earth and Space, and Physical Sciences. Across their schooling, students build on their understandings of each topic and the world in which they live.
​​Visual Arts
At Warrandyte Primary School the Visual Arts Program develops the intellectual and expressive potential of students through both 2D and 3D experiences. Students explore a variety of visual arts techniques and processes, developing knowledge and skills as they create their work. Children have a dedicated time each week and participate in lessons that connect to other areas of the curriculum and the interests and passions of students.
Performing Arts
Music involves students exploring and developing ideas, using music skills, techniques, and processes. They listen to and respond to a variety of music. Through a wide variety of enjoyable activities such as moving, dancing, singing, listening, playing, creating and performing, they develop basic music concepts in rhythm, melody, expression form and style. 
Physical Education
All students are involved in a dedicated Physical Education session each week. House Sports provide students the opportunity to participate in swimming, cross country/fun run and athletics whole school events.
Dedicated intensive swimming program Prep – 6, Perceptual Motor Program (PMP) program for Prep – 2, intra-school sport Years 3 -6 and interschool sport Years 5 & 6 provide students with the chance to experience team and individual opportunities in a competitive environment. Local, regional and state competitions are provided in cross-country, swimming, athletics, tennis, basketball, netball, volleyball, teeball, and softball.
Japanese
At Warrandyte Primary School, we offer an exciting Japanese programme which starts in Prep and continues through to Year 6. Our aim is to develop both language and cultural awareness.
In Junior grades, students enjoy the language through songs and games and also start to learn to read Hiragana writing script. Our Middle and Senior year students, tackle writing of Hiragana with the aim of becoming "Hiragana Masters" by the end of Year 6. Language games and activities are used to introduce and reinforce Japanese language acquisition.
Gifted & Talented
Through our differentiated learning program students have the opportunity to be challenged at their achievement level (point of need) during classroom activities. They are provided with the opportunity to work and connect with like-minded students from other schools with their involvement in the Gateways Program, Solar Boat Challenge and Maths Challenge.